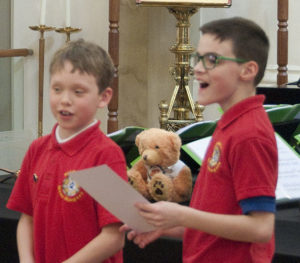 Frankly, the opening piece of their entry in the Skipton Music Festival 2020 lacked a certain degreee of… well, pretty well everything! In hindsight, they should have stopped and restarted. However, they rang Bobby Shafto better than I've ever heard them. Judging these things is always a subjective thing, but we were all delighted when we heard that we had won our class!
We knew that one of the Kildwick teams would win the change ringing class – our
three teams were the only entries! In the event, the "MidiRingers" were judged to be the best, though another judge could just as validly chosen the "MicroRingers", or even the whole band "MiniRingers". I still think that, as a spectacle, changes on twelve bells take a lot of beating.
The Kildwick Foundry trophies were awarded for the very first time this year, so – whatever happens, the MiniRingers' name will head the list on the oak plinth.